Brush Up On the Basics: The Need for A Pet Dental Exam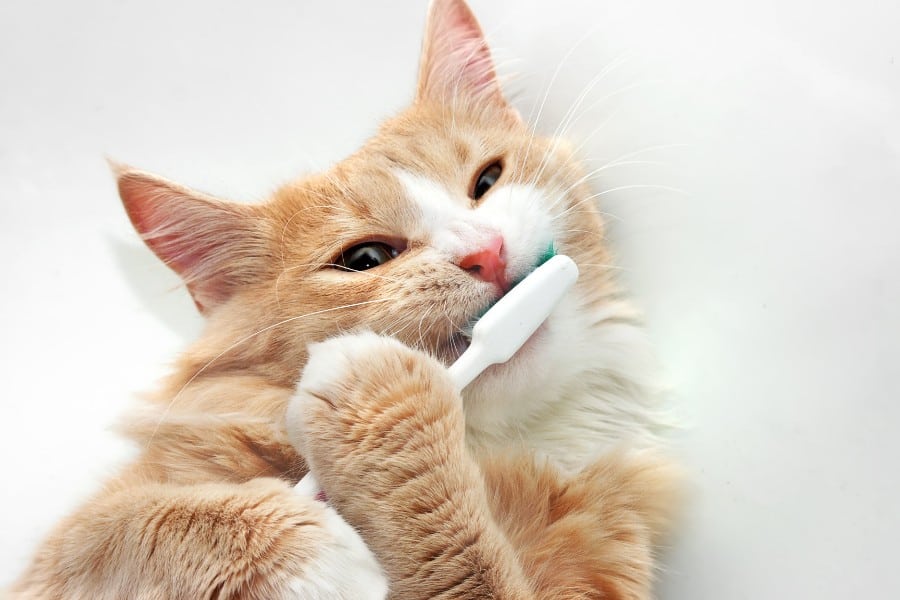 If you've cuddled up with your pet recently and noticed their breath is less than fresh, it might be tie for a pet dental exam. Bad breath is one of the first signs of pet dental disease, a common but preventable condition.
So common, in fact, that by the time a pet is 4 years of age, there's an 85% chance that there is some form of dental disease present. A pet dental exam is the first step in treating and preventing the disease, and Bowman Veterinary Hospital shows you the value of this important step in your pet's health care routine, here.
The Pet Dental Exam Basics
During your pet's regular preventive care exam, we'll perform a dental exam as well. Any exam begins with your account of your pet's behavior at home. We'll ask about bad breath, drooling, difficulty eating, and pawing at the mouth. All these can be signs of dental disease.
We'll examine your pet's head and neck to check for any swelling or discomfort. The inside of the mouth will be examined, where we'll check for swelling, bleeding gums, loose teeth, and plaque and tartar. Redness, swelling or bleeding can all signal gingivitis, a painful inflammation of the gums that can lead to further problems. We'll then grade your pet's teeth on a widely used veterinary dental grading system from 1-5.
All of these aspects of the pet dental exam can generally be performed without sedation. However, to evaluate all the tooth structures, and to clean the teeth, your pet needs to be anesthetized. Luckily, anesthesia is safer than ever thanks to advanced monitoring equipment, safer anesthetics, and a team of trained and skilled technicians.
Once your pet is safely anesthetized, the dental exam can continue with digital dental x-rays. X-rays are critical to assessing the health of your pet's teeth below the gumline, where we can't see. X-rays can also show us any problems developing with the tooth roots and supporting structures.
Benefits of a Pet Dental Exam
The benefits of a dental exam abound. Your puppy or kitten will benefit from simply having her mouth gently handled, making future visits to see us less stressful. Your adult or older pet will benefit when we catch small problems early. This early detection of disease can save your pet from discomfort and pain, and can save you money in the long run as well.
A Professional Dental Cleaning
Like us, pets need regular professional dental cleanings in order to ensure the health of their teeth. A healthy mouth not only reduces pain and discomfort for your pet, it can lengthen their life by preventing systemic disease of the heart, liver, and kidneys that can result when bacteria from the mouth enters the bloodstream.
At Bowman Veterinary Hospital, a dental cleaning includes:
Examination of each tooth, including probing for deep pockets of infection

Digital radiographs of every tooth to assess the health of internal structures

Charting of all the teeth and gums to record any areas to monitor

A complete and thorough dental cleaning and polishing, to remove plaque and tartar and smooth any rough tooth surfaces that might collect bacteria
At Home Dental Care for Pets
After your pet's dental cleaning is the perfect time to begin a regime of at home dental care. A pet dental exam is a wonderful chance to learn to brush your pet's teeth, with one of our skilled technicians teaching you how (it's not as hard as you think!).
We may also recommend any combination of brushing, dental diets, chews, or rinses, depending on your pet's individual needs.
Regular and preventive dental care is truly one of the best gifts you can give your pet. Good dental health is a team approach, and we look forward to seeing you and your pet soon to get started! Please give us a call to schedule your pet's dental exam today.