Merry and Bright: Holiday Pet Safety and Fun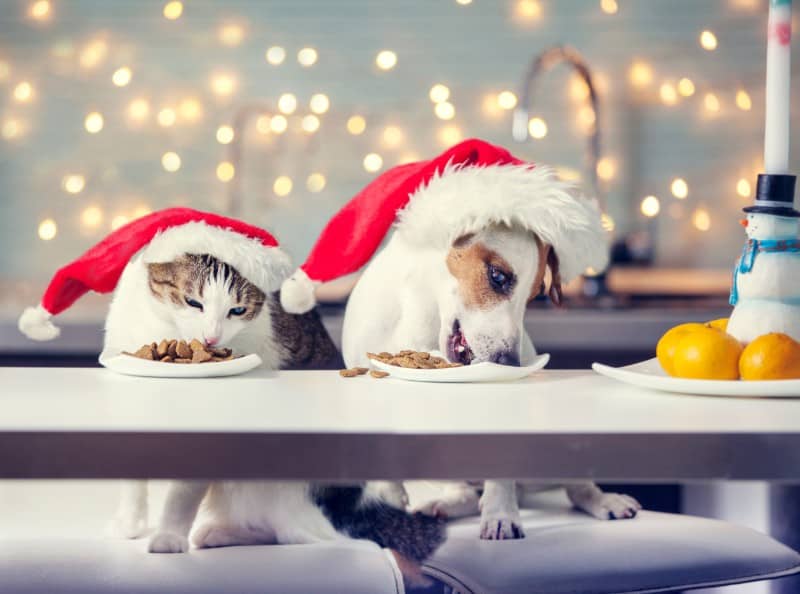 The holidays are upon us, and if you're decking the halls, we're sure your pets are right there with you! It's fun to celebrate the season with our best fur pals, but sometimes the hustle and bustle of the holiday season can leave room for a pet accident or injury, and land us in the emergency clinic – the last thing anyone wants.
So, let's spend a moment talking about how to have a safe and fun holiday with your pet!
Holiday Pet Safety
Holiday pet safety hinges on three things: awareness, attentiveness, and prevention. When you know what could get your pet into trouble, it's much more likely that you'll be aware and take necessary steps to prevent any mishaps.
Decorations and Disasters
The holiday season wouldn't be the same without all the traditional and beautiful items we decorate our homes with. Whether from the glowing candles of a Menorah, a sparkling Christmas tree, or a living room full of poinsettias, holiday decorations are lovely and time honored. They can also spark our pet's natural curiosity, ending in disaster. Here's what to watch out for when it comes to our pets.
Christmas tree and tree water

Tinsel and ribbon

Lit candles

Strings of lights

Glass or breakable ornaments
Keeping all these things out of your pet's reach may be a tall order, so get creative with supervision. And, you can add more pet friendly holiday decor; think battery powered candles, faux plants, or a lovely artificial tree.
Dining Dangers
When it comes to holiday food, nothing makes our mouth water more, and you can bet that your pet's mouth is watering, too! But animals do not generally tolerate fatty, rich, and salty foods well, and the result of overindulgence can be GI upset, a foreign body obstruction or even a serious and painful inflammation of the pancreas known as pancreatitis.
Don't think you're doing your pet any favors by letting her go hog wild on the holiday (even if you do). Instead, we'll give you some great options for sharing the food-related fun with her, safely:
A dollop of plain mashed or sweet potatoes (skip the cream, sugar, butter, salt, and marshmallows)

Cooked plain green beans, Brussels sprouts, or carrots

A small piece of lean white turkey meat

Fresh apple pieces (small enough not to choke on)
If you're not aware of the holiday food "don'ts" for pets, here's an important list. Your pet should avoid:
Alcohol

Yeasted bread dough

Chocolate

Xylitol (sugar substitute in candy, gum, and peanut butter)

Macadamia nuts

Grapes, raisins

Chives, onions, and garlic

Dairy (milk, cream, whipped cream)
In addition, keep these food related items out of reach of your pet:
Unattended leftovers

Poultry or other meat string, aluminum foil, and food wrappers

Garbage and compost

Table scraps, including poultry skin, fatty parts, and gravy

Bones of any kind
Holiday Parties
Parties and gathering with family and friends are all part of the holiday season. You want to include your furry family, of course, but is it right for them?
Most pets don't love a crowd, and strangers, activity, and any change in routine can cause them anxiety and stress and cause undesirable behaviors. Other pets are more social, and so it's wise to pay attention to the individual needs of your pets.
If you're going out, leave your pet at home rather than expose them to a crowd of strangers and unfamiliar surroundings. Pets should never be left unattended in a car, especially in the cold Auburn winter. If you're worried about anxiety, consider hiring a pet sitter or boarding your pet for the evening.