Winter Pet Safety Tips to Keep Your Pet Warm and Safe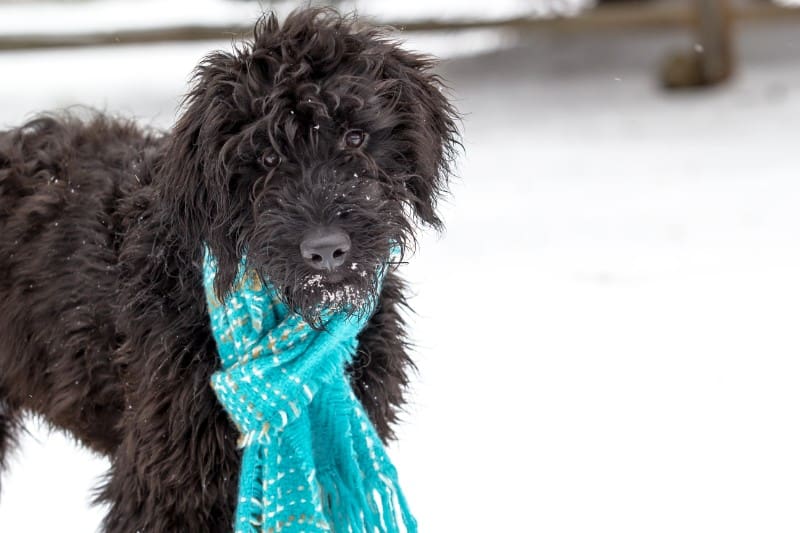 This time of year, it seems like everyone is concerned with warding off illness and staying healthy – but we're not the only ones in need of a little extra TLC. Pets also benefit from our vigilance and protection during these damp, chilly months. With our winter pet safety tips, you can avoid certain seasonal risks and keep your companion happy and healthy throughout the new year.
Smart Decisions
Low temperatures are probably the most common concern for pet owners. A good rule of thumb: if it's too cold out for you, it's too cold out for your pet. However, some pets actually enjoy the cooler weather and beg to be let outside; usually, they won't come back in for extended periods of time. As long as they have access to dry, insulating shelter and plenty of fresh water, they'll be much better off.
Near freezing temperatures and wet, gusty winds should prompt a pet's quick entry into a warm house. Be sure to dry their coat thoroughly, wash and wipe their paws, and ensure they have a cozy, draft-free place to snuggle up for the night.
Water Matters
This time of year, it's typically cold and wet outside and warm and dry inside. This fluctuation can end up causing skin irritation. In addition to dry, flaky skin, pets can easily become dehydrated during the winter months. Make sure the water in their bowl isn't too cold to drink, and replenish it daily.
Don't Forget Those Calories!
Slight adjustments to your pet's diet may be in order during the winter. For pets who have difficulty regulating body temperature (e.g., younger pets, ill pets, and aging or senior pets), adding a few more calories to their meal can help. Likewise, pets who aren't interested in going outside may need a reduction in their diet to avoid gaining winter weight.
Remember, before changing your pet's diet, we urge you to speak with us.
What About Exercise?
Winter is no time to be a slouch, and keeping up with exercise is key to winter pet safety. Provide your pet with rain gear, a sweater, and/or booties to keep them warm and dry. Be mindful of antifreeze, which can wind up in drainage puddles, and salt or deicers that can stick to your pet's paws. If it's too chilly to be outside, add a few training sessions to the schedule, establish an indoor agility course, or simply play with your pet inside.
Winter Pet Safety
Stray cats and those who stay out too late are known to curl up under the hood of a car to nap. The engine block provides warmth and keeps them completely protected from the weather and other cats/predators. To prevent serious injury to hiding cats, be sure to rap loudly on the hood of your car before turning the key. If your cat is a night owl, it's best to try and prevent them from darting out after a certain hour. Always be sure to call them indoors before going to bed for the night.
Lastly, check that your pet is fully vaccinated, microchipped, and wearing ID tags.
If you have additional questions about winter pet safety, please let us know. The team at Bowman Veterinary Hospital is always here to help!