It's Time to Make Halloween Pet Safety a Priority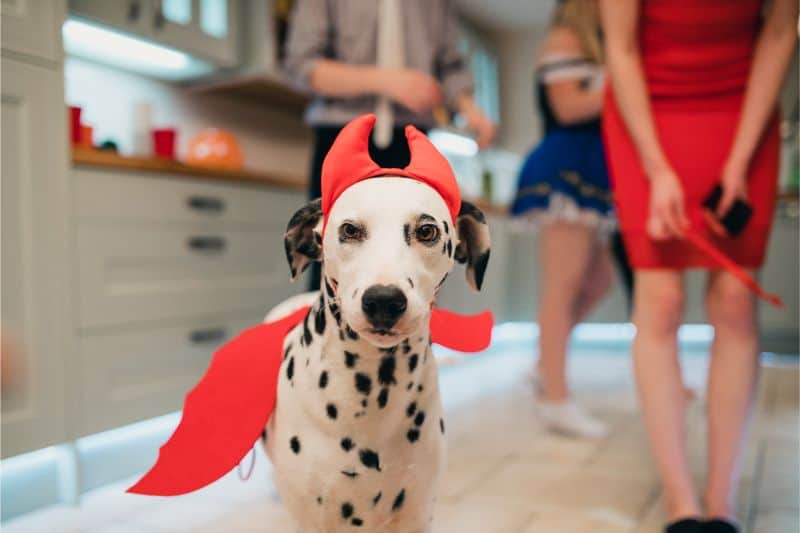 The holidays we celebrate throughout the year bring us a lot of joy, but because of the potential hazards to pets, some pet owners may have to participate on the sidelines. There are ways around feeling like this, and with a quick and easy approach to Halloween pet safety, pets and people alike can enjoy the spookiest time of the year together.
Best Defense
Statistics show that this time of year is one of the most dangerous for pets. Be sure that your pet is equipped with their identification to defend against separation or loss. A secure collar, ID tags, and even reflective gear go a long way toward safeguarding.
Likewise, your pet's microchip is critical. If your contact information has changed since you first registered it, please update it with the chip's manufacturer! If you're unsure how to do this, please give us a call.
Poison Prevention
One of the most common toxins this time of year, and perhaps the biggest threats to Halloween pet safety, is chocolate. Be sure that your pet cannot access the treat bowl, trick or treat bags, and any dropped goodies along the way. 
Speaking of dropped goodies, plastic or foil wrappers can cause serious problems in the GI tract. To avoid a pet emergency related to Halloween candy, eliminate your pet's access to wrappers at home or at events.
Also, Xylitol poisoning increases around Halloween due to the artificially sweetened candies and baked goods.
State of Mind
Many pets suffer through high levels of anxiety or stress related to changes in routine, heightened traffic at the front door, and frightening decor. If your pet is crate trained, they may benefit from hanging out in their own "room" until the Halloween action dies down. 
Alternatively, encourage them to stay in a back room with all of their creature comforts. Fresh water, treats, and toys are great distractions.
Costumes and Halloween Pet Safety
Pet costumes can be incredibly cute, but they can also be highly restrictive and irritating to animals. Be sure that your pet can see, breath and move without any problems. Watch them carefully for any signs of discomfort and remove the costume if/when they signal they've had enough.
Another way your pet can dress up is with a festive bandana, bowtie or vest.
Stay Safe
Please keep your pet a safe distance from animated decorations, string lights, glow sticks and candle lit jack-o'-lanterns.
If we can assist you with further questions or concerns about Halloween pet safety, please contact us. From all of us at Bowman Veterinary Hospital, have a safe and happy Halloween!