Festive Pet Treats: Thanksgiving Edition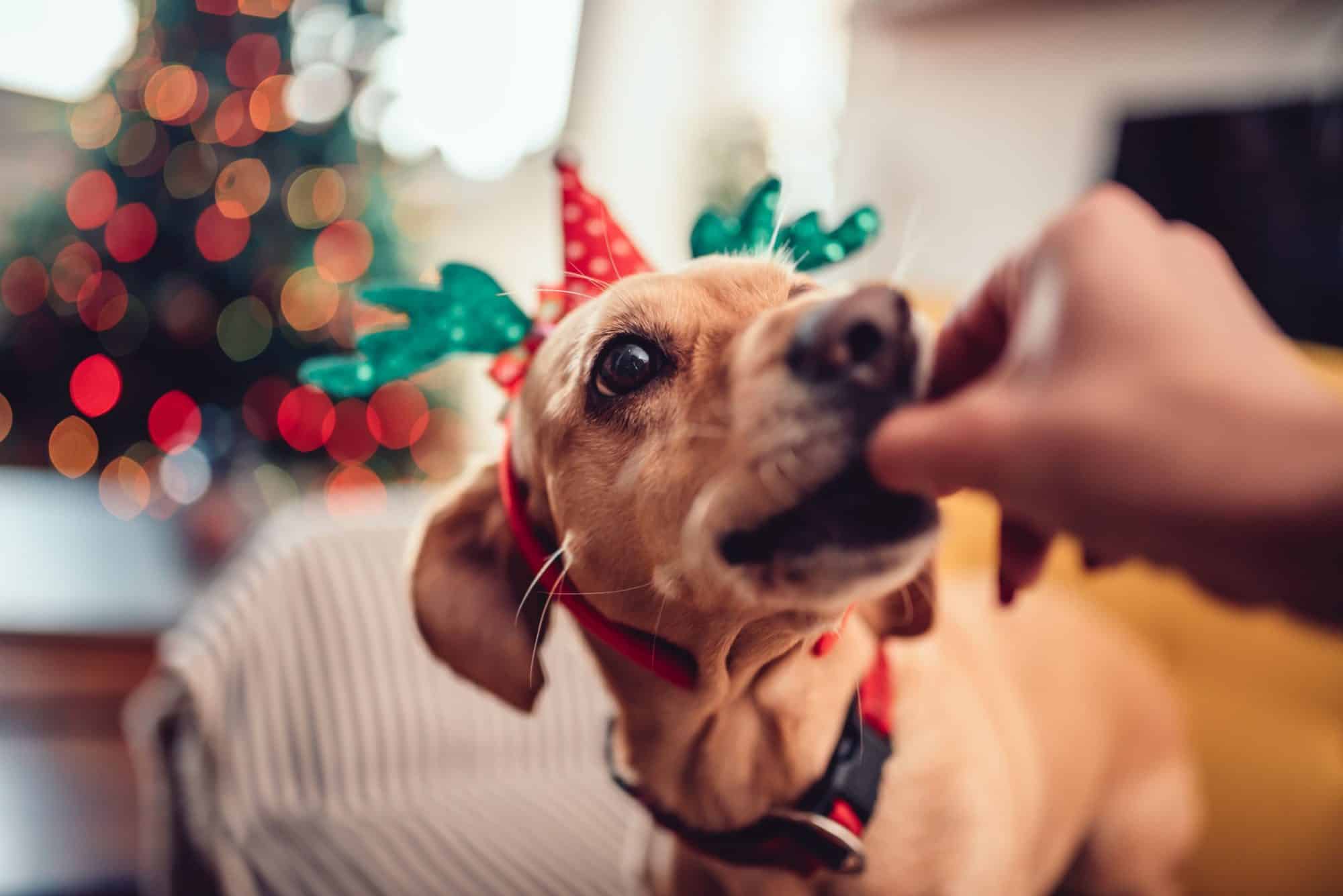 At holiday feasts, it can be hard to stop family and guests from slipping snacks to pets with pleading eyes. They may not realize, however, that these tasty handouts could be harmful.
Lure the treat givers away from the family table and lead them to a tray of safe-for-pets, holiday treats instead. Once the treats are gone, they'll know that puppy has had enough.
What Holiday Foods Can Harm the Family Dog?
Fatty, toxic, and dangerous foods adorn the Thanksgiving table and should not be given to your pet. Avoid giving your furry friends any of the following:
Turkey skin and bones
Stuffing
Gravy
Cranberry sauce (sugary)
Buttered and salted foods
Oils
Sugar
Garlic in all forms
Onions in all forms
Popular fall seasonings such as nutmeg and sage
Grapes and raisins
Chocolate
Ice Cream
Macadamia nuts and walnuts
Alcohol
If it's full of fat, seasoned with salt (or most other seasonings), or sweetened with sugar or xylitol, don't offer a taste to your dog. It could mean a trip to the emergency vet.
What Human Foods Are Safe For Dogs?
Don't be a sad little puppy; there's lots of human holiday food that's good for you dogs. A note to your humans, though: a little bit is enough!
The following festive foods are safe in moderation:
Unseasoned, cooked meats
Carrots, celery, green beans, and more! Lots of fresh vegetables are good for your dog in small amounts. Cooked veggies are easier to eat.
Many fruits—apples, peaches, pears, blueberries, strawberries, cantaloupe, and bananas, to name just a few.
Small bites of cheese
Sweet potatoes—no salt or butter or seasonings
Pumpkin—but not pumpkin pie. There's too much fat, and spices and could be toxic.
Cooked potatoes are okay—never raw, seasoned, salted, or buttered
Help Control Your Dog's Weight With Smaller Portions
Even though all your guests may overeat on delicious Thanksgiving foods, your pets don't have to. Make up a tray of portion-controlled healthy treats for your dog and share throughout the day. Don't make so many that your dog could gain weight, or his tummy could be upset. These are healthy amounts for pets:
A teaspoon of pumpkin mixed with a small chunk of cooked potato
A quarter-inch cube of cheese matched with a bite of cooked turkey (unseasoned)
Three slightly cooked green beans
Fruit slices—not too big!
Small carrot and celery sticks dipped in peanut butter
My Dog Got Into the Turkey, Mashed Potatoes, and Gravy. Now What?
If somebody accidentally leaves a half-eaten plate of hors d'oeuvres on a side table and your pet helps himself, be sure to call us at (530) 823‑6306 before holidays happen to help you make an emergency pet health plan
What Are Symptoms of Pet Poisoning?
You know your pet and can probably tell when something isn't right. If you suspect your dog is sick, get him to the vet as soon as possible. Call first, so they know you're on the way! Extreme symptoms may include:
Abdominal pain
Diarrhea
Disoriented
Muscle weakness
Pancreatitis is indicated by posture—head down, hindquarters up. Pancreatitis is extremely dangerous.
Vomiting
Holiday Preparations Include Emergency Preparedness
At Bowman Veterinary Hospital, we want your family, pets included, to have a happy holiday. Let us help you prepare for an emergency should something go wrong.
Your pet's wellness is our mission. Schedule an appointment to talk with us about the importance of a healthy diet for your pet.